INDIAN CINEMA

Personalities

---------------------


Satyajit Ray, India's best-known icon

Thirteen years after Satyajit Ray's death in 1992 and exactly 50 years after he made his first work, "Pather Panchali" in 1955, he continues to be India's best- known movie icon. Much as anyone would want to pull him off this pedestal, this ad-man-turned-writer-turned-filmmaker stays put there. What is more, take a walk on the street anywhere in the world and the chances are that anybody with some knowledge of cinema would identify the Indian celluloid world more often than not with Ray.

His critics would argue that Ray was just plain lucky. He was at the right place at the right time. At Cannes in 1956, his first work, which remains a great classic to this day, "Pather Panchali", could have gone unsung and unnoticed but for some members of the jury who felt that the movie ought to be seen by a full bench. A repeat screening got "Pather Panchali" an award for the Best Human document, and catapulted Indian cinema to glorious heights.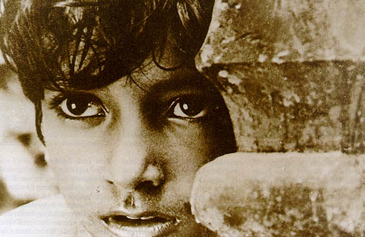 Pather Panchali
This year at Cannes, the film opened the classic section to mark 50 years of its completion, and we saw a brand new print of it, restored by the Academy of Motion Picture Arts and Sciences, along with The Merchant Ivory Foundation, The Ray Society in Calcutta, the National Film Archive of India at Pune and some others. Some 20 of his movies have been pulled out of oblivion and restored. A great record has been saved.

For, Ray made not just cinema, but excellent social documents, which continue to draw newer audiences. Recently, on a burning hot and humid afternoon in New Delhi, a screening of a Ray classic, "Charulata", attracted a full house, with tens of young people sitting even on the aisles.
In a disarmingly simple manner that was shorn of technical gimmicks, Ray spoke to his audiences and touched them by often chronicling Bengal, his native State. "I consider myself a Bengali", he had once said. But he translated Bengal into a universal phenomenon.

Today, Ray is synonymous with not just Indian cinema, but great cinema. Sitting at the Indian pavilion at the Cannes market this May, it amazed me no end to find continuous enquiries for Ray classics from a diverse lot of people.

"Pather Panchali" continues to be the top grosser in foreign sales, says Deepankar Mukhopadhyay, Managing Director of the National Film Development Corporation of India, an organisation which promotes quality cinema by selecting good scripts, funding sensitive films and pushing them the world over. "Even Ray's last movies – "Ghare Baire", "Ganashatru", "Shakha Proshaka" and "Agantuk" – not very well received by critics -- are in great demand especially in Europe and the USA", Mukhopadhyay remarks over the telephone from his Bombay office.

E.P. Unnny, cartoonist with "The Indian Express" (newspaper) and avid cinema buff, aptly sums up in a single sentence the reason for Ray being an eternal favourite: "His work rings true".

Krishnan Hariharan, film historian and theoretician, elaborates, " he was probably one of the very few Indian movie directors who was a great story-teller and an extremely consummate technician rolled into one. Launched into fame in the heady 1950s when European auteurism ruled the cinematic circuits, he never lost track of his roots in Bengal and the strength of her writers and other artists".

Ray combined European sensibility and Bengali history, tradition and folklore to create a canvas of sheer originality. "His innovation was remarkable and had classic qualities", says Aparna Sen from Calcutta, a renowned director today who made her acting debut in Ray's 1961 "Teen Kanya".

Apart from classicism, Ray is credited with pioneering realism in Indian cinema. He took movies out of the studios to actual locations, and mastered the art of aesthetic subtlety. He was also the first to use non-professional actors. He pulled Aparna Sen and Sharmila Tagore out of school and gave them roles and wonderful careers.

But neither his classicism nor his realism – not even his beloved Bengal – isolated him, writes Darius Cooper in his book, "The Cinema of Satyajit Ray", first published in 2000. "He was a filmmaker trying to discover cinema all over again".

One supposes that Ray's curiosity coupled with intense sincerity helped him achieve fascinating variety, which can be seen in works such as "Charulata" (sheer poetry on screen), "Jana Aranya" (made during the dark days of the Emergency in India, mid- 1970s) and "Gopy Gyne Bagha Byne" (a delightful adventure for the young). And these still endure with rare freshness.

(This story was posted on this website on June 16 2005)