EVERYTHING ELSE

Fashion

-----------------------


In Fashion…Rohit Bal, the master of fantasy

Once, Time called him the master of fabric and fantasy. That was the American magazine describing Indian designer, Rohit Bal. His romance with clothes has been as passionate as his affair with the media. The print and pictures always adored him, calling him in such endearing terms as "Gudda". Incidentally, that is what his friends and family also call him.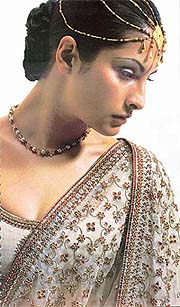 Rohit Bal creation

As reams of newsprint and rolls of film continue to adulate him, Rohit weaves and warps from one collection into another, each more fabulous than the last. Looking at design as an art form, he manufactures masterpieces, drawing inspiration from fantasy and folklore, embellishing his clothes with history and culture. If he is imaginative, he is intelligent, and if he is studied, he is savvy.

Rohit Bal graduated with a first class in History from New Delhi's St. Stephen's College, and worked for a few years in his brother's export firm before styling his first ever label.

He has designed garments for some of the world most beautiful and sought after women, such as Uma Thurman, Cindy Crawford, Pamela Anderson and Naomi Campbell, to name just a few. Anna Kournikova, the famous tennis star, in fact even walked down the ramp in one of his shows.

He has had solo fashion shows in New York, London, Paris, Dubai, Singapore, Mauritius, Sao Paolo and all the major cities in India, including New Delhi, Mumbai, Chennai, Bangalore and Calcutta.

At the recent Wills Lifestyle India Fashion Week in New Delh (March 2007), Rohit Bal's show turned out to be truly entertaining with catcalls and whistles and thundering applause. Titled "Koyla" (call it Black or Coal), the collection had a strong Bohemian element with a dash of the 1960s Hippie chic. Drawing on the ancient aesthetics of Indian civilization, the Koyla wear may have been flamboyant, but understated.

Rohit moved away from lighter hues this season to give us the darker shades of autumn and winter: black, charcoal, brown, slate and deep blue were some of the outstanding colours of Bal's Fashion Week repertoire.

Sheetal Malhar opened the honours with a long flowing black dress topped with an overcoat, and the other models who followed her sported jersey dresses, embroidered sherwanis, bloomers, dhoti-pants, skirts and corsets. Rohit's line was essentially pure, though with a touch of simple embroidery.

Rohit used fabrics like silk, cotton, chiffon, georgette, velvet and even wool in his outfits, prominently featuring texturing, stretching and patchwork.

Here are some examples: high waist skirts as well as long ones with the fabric folded in layers to form a triangular shape; and the skirts were coupled with pleated balloon blouses with gatherings at the sleeves, neck and waist.

Fabrics were cleverly used to give a look of richness. The fabric in some dresses was pleated and gathered to resemble knots and flowers. Similar styling was used in jackets to make them look like fur.

There were long coats for women as well as handkerchief dresses and bikinis.

Collection for men featured dhotis teamed with coats and pants, sherwanis and layered skirts matched with coats.

Rohit, who styled a part of the wedding trousseau for the recent Arun Nayar-Elizabeth Hurley marriage in Rajasthan (March 2007), feels that Indian designers must incorporate Western ideas into their collections. Only then can they become truly global. Traditional Indian wear has limited appeal. "All of us have to make international clothes, but we also have to cling on to our roots, because buyers want Western clothes which have Indian spirit."

(Webposted April 10 2007)